Miniature Horse


Little Kings BT Buck Bandito

​Sire: IMA Boones Little Buckeroo Too (Aka BTU)
Dam: Stouts Fannie Mae
Foaled 1998
Height:30.5''
Color: Sooty Buckskin pinto

We are SO thrilled by the addition of this beautiful boy to our program! Bandito is a proven stallion with proven lines! We are so excited to add a direct son of the famous BTU. His dam comes from the Stouts farms which is a fantastic foundation program for the miniature horses.
Bandito is such a fantastic addition to our small program! Bandito is a Multi-National Champion Sire. He was only shown one year himself, but received multiple Grand and Reserve Grand Championships as well as being named Champion of Champion.

Bandito's get have proven themselves in the show ring. They have earned numerous National Championships, Hall of Fame, and Multi-Supreme titles. Just a few of his get are:

Eric's Knock Your Socks Off -Multiple National & Reserve National Champion, Supreme, HOF
Erica's Sock It To Me - Reserve National Champion Weanling
Erica's Cloverbud - Multiple National & Reserve National Champion, HOF
Erica's Ive Got Angel Eyes - Multiple National & Reserve National Champion, Supreme, HOF
Irish Hills Classical Celebration - National & Reserve National Champion Dam
Irish Hiills Drop Dead Gorgeous - National Top Eight

We are so very thrilled to see what this fantastic stallion will produce for us! We are very excited to cross this amazing boy onto our girls next to spring! We are hoping to get a fantastic young colt to raise up for our program!
---
RCW Phantom's Flight Plan

Sire: Wisteria Phantom Masquerade
Dam: RCW's Flashy Trinket
Foaled: 05/10/2013
Height:33.5''
Color: Black, Minimal homozygeous Tobiano

We are so absolutely THRILLED to add this beautiful young stallion to our program!!!! I've loved this boy for a long time and I've been so thrilled to watch him mature! RCW Phantoms Flightplan (Aka Aries) is a stunning 3 year old black stallion. He has gorgeous movement to go along with his beautiful conformation!
Aries is out of RCW's Flashy Trinket (Hyland's Proud Commander X Hackett's Tini Cindi) and by the amazing Wisteria Phantom Masquerade (Aloha Acres Magic Marker X Buttonwillows Rocky Empress) Phantom has 3 World top fives in halter, including a world reserve, and one National top ten in halter. We are SO thrilled to have his son! We can't wait to get this boy into the ring and hope he follows in his daddy's footsteps! He has already been to one show and did very well! Just needs a little experience! We are planning on showing him in 2017 so look for us in the ring! We are also wanting to break this fine boy to drive! He has fantastic movement and will be stunning in cart!

​Aries is 33-33.5 inches tall and, believe it or not, (tested) homozygeous for tobiano! So we are expecting some really fancy moving and flashy foals from this boy! We are very, very excited to cross him to a couple mares next year and see this fine boy's first foals! We have huge expectations for this beautiful boy!!!
---

Shetland Pony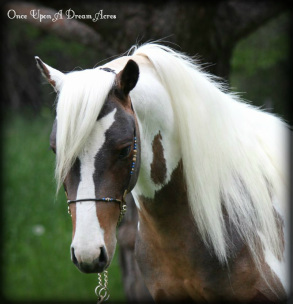 McCall's Rambo
Sire: McCall's KL Top Jet
Dam: Red Rock Tomorrow's KL Blackie
Foaled: May 8, 2012
Height: As of Feb 2015, 41''
Color: Bay Pinto

"Rambo" is a beautiful young stallion. He fell in our lap last year and we have been in love with this handsome boy ever since. He is maturing into an absolutely stunning young boy. He has the most incredible moment and is an absolutely beauty to watch trot and canter! We are so very excited to get him into the show ring this year! We are also looking forward to get him started toward his driving career, we think he will be incredible in harness. Keep watching for good things from this boy!


Rambo has strong Red Rock breeding on both sides that we absolutely love. His dam Red Rock Tomorrow's KL Blackie always produces exception classic foals! Blackie is the dam of Snowy Acres Chad H (HOF). Rambo's sire is the stunning McCall's KL Top Jet. Rambo seems to have inherited Top Jet's refined head, balanced conformation, beautiful long legs and his beautiful color as a bonus! Top Jet has a beautiful balance of Red Rock breeding with wonderful out crosses like Bulleyes, and Kid Lee! We are very excited about this young stallion and we have very high hopes for very good things from him!


***News Flash*** Rambo Received FOUR ASPC National All-Star Awards!
Classic Model Stallion-2 years old and older 46'' & Under
Classic Stallion-Senior Champion & Reserve-46'' & Under
Classic Stallion-Grand Champion & Reserve-46'' & Under
Classic Senior Stallion- 3 years & Older-46'' and Under.
We are so proud of how our boy did his first show season, and we can't wait to get him back out in the ring in 2016!!!

***News Flash*** Rambo received 2nd place in Senior Stallions and Reserve Grand Champion at the 2015 Eastern Idaho State Fair. We are so thrilled with how this beautiful boy did the whole week at fair! Everyone just loved him!


***News Flash*** Rambo did amazing at his very first show! We took him to the 13th Annual Snake River Miniature Horse Show. He was 1st place in 3 year old stallion, 1st Place in Senior Stallion, and also was the Grand Champion with all 3 judges! We are so proud of our boy!
---
---
New Stallion Coming Soon!!!
Watch For Updates!!!
We Are So Very Excited!!!

---
Junior Stallions
​
Mayhem is such a wonderful young colt! We couldn't be more thrilled with our first colt! We plan on add this little boy to our show string for a few years and if he matures as nicely as we think he will, he can add our Stallion line up! We think Mayhem will be a natural in the show ring like his dam! Startlye (on our mare page) went HOF as a 2 year old. She was such a beautiful natural mare in the show ring and we hope he follows in her footsteps!

Mayhem is sired by LM Idols Bling, he is son of the one and only Frist Knight Billy Idol! Billy Idol is son of the amazing Frist Nights Breakin All the Rules. His Dam, M-Mini's Super T's Starlyte Starlyte has many champions in her lines including both Flying W Debonaire and Flying W Legionaire. This boy has a power packed pedigree to go with his good looks!

We can't WAIT to see how this boy matures! We love showing him! He has already come to two shows with us and handled it all like such a little champ! We are so proud of this little boy!