Sold!!!
---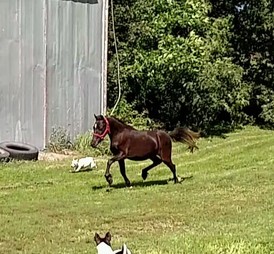 Grassmere's Truly Exhilarating
Sire: Grassmere's Mr. Unique (HOF)
Dam: Grassmere's Kit Kat
Foaled: June 8, 2014
Height: Expected to Mature around 42
Color: Black
ASPC/Foundation

Grassmere's Truly Exhilarating is by Grassmere's Mr. Unique (HOF) out of Grassmere's Kit Kat. He is a 3 year old beautifully moving boy! We are wishing him and his new family the best of luck! We can't wait to see him out driving with them!
---
---
Max is sired by Grassmere's Lil American Idol, one of our favorite Shetland stallions! We love the Grassmere lines. Idol crossed onto our sweet Anna made a spectacular boy! We are really excited to see how he does with his new owner in the show ring! We look forward to seeing him shine!

---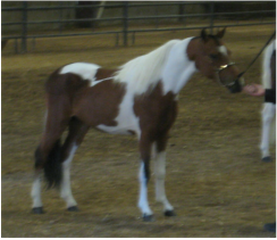 McCall's American Outlaw

Sire: Grassmere's Lil'American Idol
Dam: McCall's KL Foxy Coral
Foaled: May 1, 2013
Height: 39.75 ASPC/37.75 AMHR
Color: Bay Pinto

Outlaw is sired by the beautiful Grassmere's Lil' American Idol, one of our very favorite shetland stallions. His Dam, McCall's KL Foxy Coral has strong Red Rock pedigree. Outlaw is a beautiful mix of the Grassmere and Red Rock lines.
---
Outlaw has found a fantastic home with our good friend. We look forward to seeing how they do in the show ring together! He should also be getting broke to drive soon and we think he will be a beautiful driving horse! We wish them the best!
---
McCall's Bella

Sire: Royal Freckles
Dam: McCall's BB Della
Foaled: May 1, 2012
Height: 42
Color: Bay Sabino

Bella is a beautiful bay Sabino mare by Royal Freckles (Lee-Land Caper X Royal Momma's Girl) out of McCall's BB Della (Barons Benny VB X Codes Dawn VB). She goes back to some great names such as Blue Chips Baron VB, Roadrunner Cody Grey, Frisco's Codys Grey Fav.​
Bella is a beautiful young mare with a lot of talent! She has an incredible gait and is just a complete dream to watch move! We feel she has SO much talent as a driving mare! She has so much power and would make such a great driving horse! She also has a beautiful sabino coloring that would be a great addition to anyone's breeding stock! She also has a lovely temperament and would make a nice youth mare! She is a very, very versatile young mare!

Bella has found a perfect driving home here in Idaho! Congratulations!
---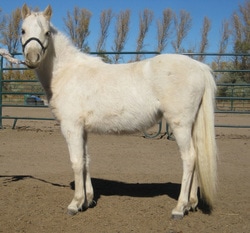 McCall's Field Of Dreams

Sire: Royal Freckles
Dam: Showman Golden Heidi H
Foaled: April 27, 2012
Height:
Color: Palomino

Dream is daughter of our Heidi By Royal Freckles. She is an extremely sweet, pretty girl! She has gone to one of our good friends to learn to drive! As well as possibly be a great broodmare for her down the road! We wish them the best!
---
---
OU Dreams Duchess
Sire: Molokai MFR
Dam: Tecozy
Foaled: May 9, 2016
Height: Estimated 16.2-16.3
​Color: Bay
FHH Fresian Sport Horse

This is our first full sized baby, and only big girl of the year. We could not have wished for a prettier girl!!! Duchess is the first baby from our lovely Irish Sport Horse Tecozy, and she is perfect! This baby has stunning gaits, a friendly willing temperment and gorgeous conformation! We couldn't be happier with this filly!
Duchess, now loving called Piper June, has found a fantastic home in Montana! She is doing amazing up there, and we are so thrilled she has found the perfect home!!!
---
OU Dreams Dandy Little Sundance
Sire: Sandy Hollow The Sundance Kid
Dam: JD Diamondacres Dandy's Little Brandy
Foaled: May 21, 2016
Height: Estimated 35-36
​Color: Buckskin Pinto with 2 blue eyes
AMHA/AMHR Miniature Horse

​This boy is just fantastic!!! We could not be MORE thrilled with Bonnie's first baby! He is just gorgeous! He is a leggy boy with a beautiful color and fantastic temperament. This colt is friendly, confident and steady! He is absolutely perfect! Bonnie was our very first mini, and we couldn't be more happy with her very first foal! Now we just have to find him the perfect name! ​
Dash is SOLD! Congratulations to his new owner! We are very excited to see how they do together!
---
Ice and Star are two beautiful shetland ponies! These lovely girls came to our farm originally from Bellevue Farms when we picked up Rambo. We found them a wonderful home a couple of years ago. When their new owner fell ill, we took these lovely ladies back. Ice and Star are now ready for their new forever home!
McCall's Ice Storm
Sire: Royal Freckles
Dam: Cheg-Kim's Spring Song
Foaled: 05/06/2012
Height: 41 inches
Color: Chestnut with Flaxen Mane/Tail
ASPC Shetland Pony

McCall's Ever After (Star)
Sire: Royal Freckles
Dam: McCall's KL Foxy Angel
Foaled: 04/28/2012
Height: 41 inches
Color: Chestnut with Flaxen Mane/Tail
​ASPC Shetland Pony
A Beautiful Pair of Shetland Ponies!

McCalls Ice Storm and McCalls Ever After (Star) are both 4 year old, ASPC registered shetland ponies. They are 1/2 sisters by Royal Freckles. Ice is out of Cheg-Kims Spring Song, and Star is out of McCall's Foxy Angel. They are 41 inches. We want to sell these two girls together and would really love to see them go somewhere that they would be a driving team! They are not only a beautiful match physically, but mentally are a very bonded team! Ice and Star are sweet, friendly girls.

*****SOLD!!!!******
Congratulations to their new owners! They found the perfect home!
---
OU Dreams Southern Bell

​Sire: McCall's Rambo
Dam: Grassmere's Southern Charm
Foaled: May 6, 2016
Height: Estimated 40-42 ASPC
​Color: Bay
ASPC Shetland Pony

Little Bell is the first baby of Rambo and Charm! We couldn't be happier with what they produced!!!! This little girl is going to look just like her beautiful mother! She is an active little thing and we think she has her daddy's gorgeous movement! We can't WAIT to watch this little sweetheart grow up!!! She is such a little doll!
Bell is SOLD! She is going to one of our very close friends and they will be showing her with us! We can't WAIT to see how they do together! She was the Shetland Futurity Champion while being handled by her new owner at the Snake River Miniature Horse Club 2016 Blackfoot Show!
---
OU Dreams Now You've Dun It
​
Sire: Little Kings BTU Ima Roo Too
Dam: Lilliput Acres BA Showgirl
Foaled: May 22, 2016
Height: Estimated 31 inches
​Color: Most likely a Bay Dun Colt, possibly a Buckskin Dun
AMHA/AMHR Miniature Horse

Showgirl has done it again! She has given us an incredibly beautiful little colt!! We just LOVE this little boy! He is a 1/2 brother to our lovely Dreamer stallion. Pretty Boy has done it again, he has thrown an absolutely gorgeous colt! Thank you SO much to Jennifer Hinkley of JD Diamond Acres for allowing this stunning girl bred to your gorgeous boy to come to our home and family! ​
This little boy has found a great home with our dear friends in Idaho! He will be staying close and is already very loved! They are adoringly calling him Smalls! He has enough personality for 2 or 3 draft horses!
---
BCS Emerald Charm, (Emmie)
​
Sire: Horse Feathers Geordi
Dam: Dolce Blue
Height: Estimated 14.2-14.3
​Color: Black and White Pinto
GVHS Gypsy Vanner

This beautiful girl was born at our good friend's farm Briar Croft Gypsy Vanner, we are so thankful for their partnership this season! Emmie is good natured, friendly, beautiful and sweet! We are thrilled by Geordi's little girl!
This beautiful little girl will also be coming to Idaho once weaned, we are thrilled that we can see her grow up!
---
This little boy was one of our favorites from the first time we met him! He is a spunky, feisty little boy! We were thrilled when he was able to come home with us!He is a fantastic little boy with all of our students! He is a wonderful teacher! He also lives with Geordi and keeps that big stallion in line! Dakota is the boss around here! He certainly gets that from his beautiful dam Showgirl! We love this flashy little man! ​​​
​
We hadn't planned on selling Dakota, but when the perfect home came along, we couldn't say no! He is now up in Montana with my trainer. I'm told he is already running the show up there! Has quite the following and is completely loved and adored! We are thrilled such an amazing home came along for him!
---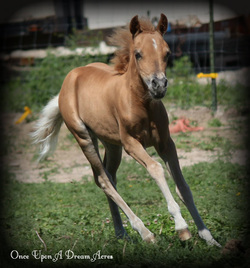 OU Dreams Twinkle Twinkle Little Star
Sire: Guiness Lazy Ha
Dam: Wa-Full Star's Twinkle T
Foaled: May 3, 2015
Color: Chestnut, carries Silver

Our beautiful little filly is here! She inherited her dam's beautiful head and her sire's long legs. She is a beautiful mover. Star has beautiful pointy ears and big doe eyes. She is a curious little girl and LOVES following her "Auntie Charm" around all day! She would make a beautiful moving driving horse, great show horse or wonderful family horse! This little girl has it all!

She is growing into a very pretty little girl! She is getting extremely friendly and loves meeting new friends! We are thrilled with this versatile little filly! She will be a great size, we are expecting her to mature around 39-41 inches (shetland standards). She could very possibly mature under 38 (mini standards) and be hardshipped in AMHR. Her sire is AMHR/ASPC registered and her mom is very close to being able to hardship into AMHR. Her dad has a pedigree full of Arenose lines and she seems to have gotten the best of both worlds. This will be a fancy little filly! We are thrilled to see how she matures. We think she will take after her lovely mother!

SOLD!!!
---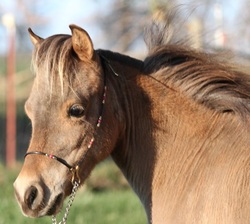 OU Dream Little Mayci
Sire: CCF Rowdy Little Streaker
Dam: Haney's Golden Mariah
Foaled: 05/22/13
Height: 30-31
Color: Silver Bay

Mayci is a very sweet young girl! She was a little sweetie that I stumbled upon and just loved from the first minute. She is a very tiny, refined, delicate little 2 year old! She has great movement and a friendly, sweet personality. We believe that she is a silver bay. We are hoping we can possibly get this pretty little filly into the show ring this year.

She has SUCH an amazing temperament, so friendly, loving and social! She will make an absolutely amazing youth's horse! She could do halter, showmanship, trail, jumping, or anything else! She is friendly, sweet and gentle as well as beautiful!

She is sired by CCF Rowdy Little Streaker by Lucky Four Medicine Man, by NFC Impressive Streaker, by NFC Rowdys Impressive. She is out of Haney's Golden Mariah, by Flabys Hear the Thunder by Stars Enterprise.

SOLD!!!
---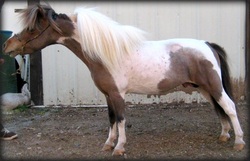 CCF Rowdy Little Streaker
Sire: Lucky Four Medicine Man
Dam: Double A Little Windy
Foaled: 04/04/2003
Height: 31.5
Color: Silver bay Overo Pinto (registered as a Dun Pinto, but we feel that is an error.) LWO+, one blue eye and one brown eye
Stallion

Rowdy is a handsome stallion! He has sired some very nice foals (we have his daughter Mayci) with great temperaments and beautiful refinement with a beautiful color to boot! Rowdy has a FANTASTIC temperament, he is so incredibly friendly, sweet and friendly! He is a very social horse, he has been great with everyone he has meet and all our boys! He is currently out with the geldings and stallions and they all get along really well! We wish we could keep this handsome boy, but we feel like he deserves to go to a home he can get more attention! We would also be willing to get him gelded if the perfect home wished! We feel that he would make a FANTASTIC youth gelding as well! He is very well trained and would be a great show horse for any handler! He also would be a great addition to any family.

SOLD!





---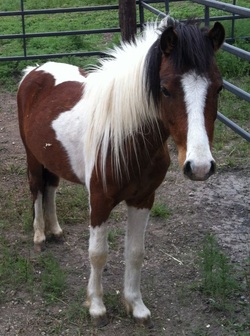 McCall's Sudden Impact "Charlie"
Sire: McCall's KL Top Jet
Dam: Red Rock Tomorrow's KL Queen
Foaled: 04/27/2012
Height: 43''
Color: Bay Pinto
Gelding

Charlie is a great boy! This cute gelding is a 1/2 brother to our gorgeous stallion Rambo. He is a feisty little boy. We are so glad that he and Rambo came our way!

Charlie isn't getting as much attention as this little boy deserves!!! We are casually offering him for sale if the perfect home comes along! He is a fantastic little boy. Gets along great with other horses, he has lived with stallions and geldings! Little and small, he is a great buddy for Geordi!

SOLD!
---