Dogs!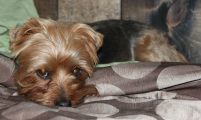 Bentley is probably our most well known animal here at Once Upon a Dream Acres! He is an adorable little 9 year old Yorkshire Terrier. We love this spunky little man! He was my best friend in college and now loves to run around and get spoiled! He adores all our lesson students and most of the time is found sitting on mom's lap while they watch their kids ride! Bentley tends to get whatever Bentley wants! He is one spoiled little boy!
---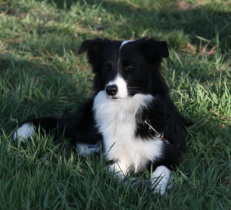 Cooper is our newest little puppy! He is a fantastic little boy! We are training him to be a great little search and rescue dog! He is spunky, feisty, hyper and sometimes a little stubborn! He is a great little puppy and we are thrilled to have him here! His mom is a fantastic search and rescue dog down in Texas and his dad is a champion herding dog. We think he is turning into a really handsome boy! We can't wait to see how his training progresses, he is smart and high drive so he has been doing great!

*Cooper passed his NAPWDA HRD test this year! We are so, so proud of our little man!!!
---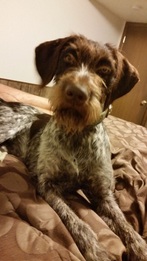 Lexi, also known as Fuzzy FACE! or Stumpy, is a super sweet 4 year old wirehair pointer. She has kept us laughing from the day she came home! She is an energetic girl and sometimes her body moves faster then her brain! She tries SO hard and is a really sweet, willing girl. We've been working her on HRD for search and rescue work and she is a really fun dog to get to work with. We love our fuzzy face! She LOVES to run and play and just have a really great time!
---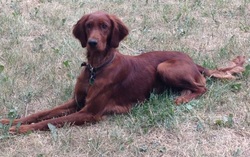 Miss Kimber is the princess around here. She is a 6 year old Irish Setter who is gorgeous and she KNOWS it. She is Michael's dog and is ALL about her Daddy. She just loves him! She is trained in tracking, area search and is learning article for her search and rescue work! She is a hard worker and loves getting to go out and play that "hide and seek" game! She has been a great dog! She loves to be with you and cuddle, go on car rides with her daddy and bounces when she barks! She is the queen bee around here for sure!
---
Goaties!!!
We love our four Nigerian dwarf goats! They were raised by our good friend Brianna down in Utah. She did a fantastic job with them and they are just as friendly and sweet as can be! They LOVE getting their backs scratched, following us around and getting lots of treats! They have just been a fun addition around here and always keep you smiling! They are just as friendly as can be and have been known to jump in students cars! They are great little weed eaters, and even better little friends! They are now about a year old and we just love having them around!
---
We have also joined the wonderful world of Milking Goats!
We have added some lovely Nubian and Mini Nubian girls to our family! Pictures coming soon!