For Sale
---
OU Dreams Little Starlord
Sire: Little Kings BTU Ima Roo Too
Dam: M-Minis Super T's Starlyte
Foaled: 06/06/2017
Color: Bay
AMHA/AMHR

We were very fortunate to have the opportunity to cross one of our very favorite mares onto one of our very favorite stallions! Starlyte gave us this gorgeous little colt as a result of that cross and we are thrilled! This little bay boy is just beautiful!


This colt is confident, independent, curious and bold! He already is showing those mommas he is boss! He inherited the gorgeous Pretty Boy head that he stamps his foals with to go with that great temperament! This colt is one to watch for in the future! He is going to be the whole package! Great looks, a wonderful size, great pedigree and a wonderful temperament! ​​

Asking $1,500 obo for this gorgeous little boy!
---
JD Diamond Acres BTU Little Roo

Sire: Little Kings BTU Ima Roo Too
Dam: Krizmatic of LTD's
Foaled: 04/27/2011
Height: 29.5
Color:Bay, white splash with blue eyes
AMHA/AMHR

Roo is an awesome little boy! He would make an excellent family/youth show gelding, or a lovely stud for someone looking for a little stallion! He is a smart, confident little boy! Great pedigree to go with his lovely looks! He is a great boy looking for a job!
$1,000. Listed for a friend, contact us for more information on this lovely little boy!
---
OU Dreams Baroness
Sire: Montanara
Dam: Tecozy
Foaled: 06/06/2017
Color: Chestnut Sabino

This girl is just incredible!!!! She is everything we dreamed of from this cross and so much more! This little girl has a wonderful build and gorgeous movement! With her short back, great hip and strong legs, she is going to be a competitors dream! She inherited her mothers beautiful "roaning" throughout her whole body as well! This is a one of a kind filly that needs a one of a kind home!
This girl has the movement for dressage and the strength for jumping or eventing! She has so much potential to go in so many different directions! She really is the dream cross! We are so absolutely thrilled with this sport horse! We can't wait to see this girl grow up and be able to reach her true potential! She is a one of a kind cross and going to be absolutely spectacular!
Asking $6,000 obo for this talented one of a kind filly! Discount for sport/show home! This girl truly needs her potential brought out!
---
​OU Dreams Monty's Mark
Sire: Montanara
Dam: Mum's Magic Mili
Foaled: 06/23/2017
Color: Liver Chestnut
​NABFR

Our last foal of 2017 is here and he is just PERFECT!!!! We felt Miracle was the perfect name for this colt as he is everything we have dreamed of! Miracle is out of our very first black forest mare byt he amazing Montanara. He is also the first blend here of the Canadian program and the United State program and we feel it's amazing!! This boy is everything we dreamed of and more!!! We are just THRILLED he is part of our program and family!
Asking $9,000 on payments or open to cash offers!
---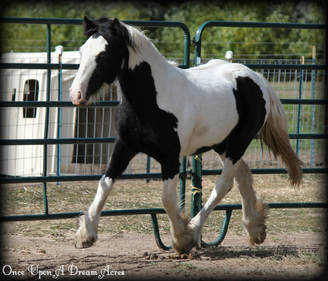 BCS Emerald Charm, (Emmie)
​
Sire: Horse Feathers Geordi
Dam: Dolce Blue
Height: Estimated 14.2-14.3
​Color: Black and White Pinto
GVHS Gypsy Vanner

Beautiful yearling gypsy daughter by Geordi! She has STUNNING movement from daddy and the beautiful looks of her mommy! She is an absolute sweetheart! She is only for sale due to her family expecting baby number 4 on the way and they want this sweet girl to get all the attention she deserves!
---
Asking $7,000 obo for this amazing gypsy girl!
---
Monte Mateo
Sire: Montanara
Dam: Waleska
Foaled: 06/05/2017
Color: Chestnut
NABFR

Montanara and Waleska have done it again! These two have proven to be such a great match! This lovely boy has his dad's beautiful face! He is a sweet boy that LOVES people! "Pocket Pony" doesn't even begin to describe this boy's love of people! He is as smart as he is handsome!!!

Asking $9,000 on long term payments or open to cash offers!
---
Thank you for looking!

If you'd like any more information on any of our beautiful horses please don't hesitate to contact us!
​
We are more then willing to help work out shipping, possibly even deliver them ourselves.
Open to reasonable offers, payments, discounts, etc, feel free to contact us for more information as we want our horses to go to their perfect homes.


Please let us know what you are looking for as well, we may know of another horse that would fit your needs either from our program or one of our wonderful friend's programs.